10 The Best Apps to Accelerate Laptop Performance / computer
10 software or applications speed up the performance of your laptop and computer. The software that Advernesia presents in the list is available in a free version so you can try the following software performance.
1. CCleaner (Author Choice)
CCleaner is an application that optimizes computer performance with an easy-to-use interface. Besides, CCleaner is the author's choice of software since 2013. The author chose CCleaner because of its simplicity and easy-to-understand features.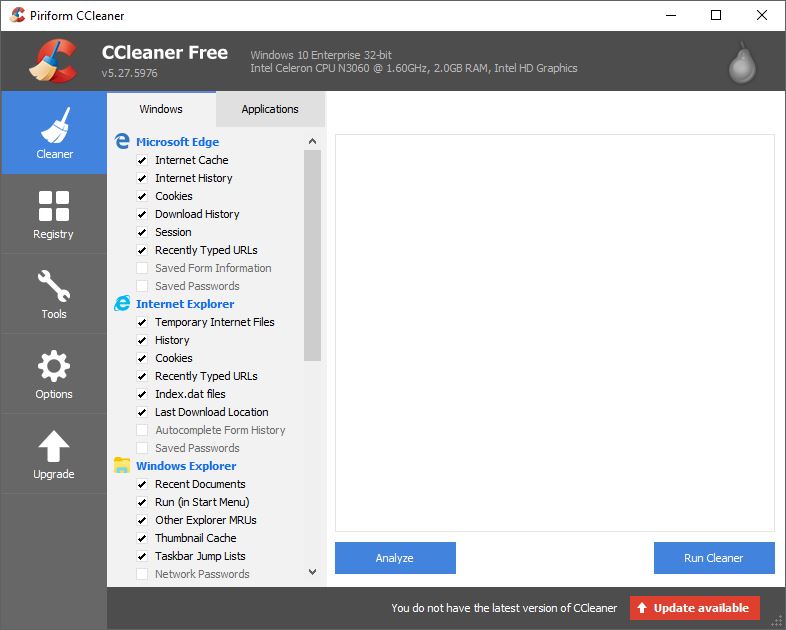 In the free version you can do registry optimization, clean junk files to optimize storage space, system service tools for operating system service management, plugin browser optimization, disk analyzer to analyze HDD/SSD cycle errors, duplicate finder to detect duplicate files and remove duplicates, system restore and wipe drivers to wipe so that the hdd/ssd segment is cleaner. However, to use CCleaner you need to do a minimum manual cleaning routine 3 once a month. Clener prioritizes simplicity, By default it doesn't show notifications for optimization.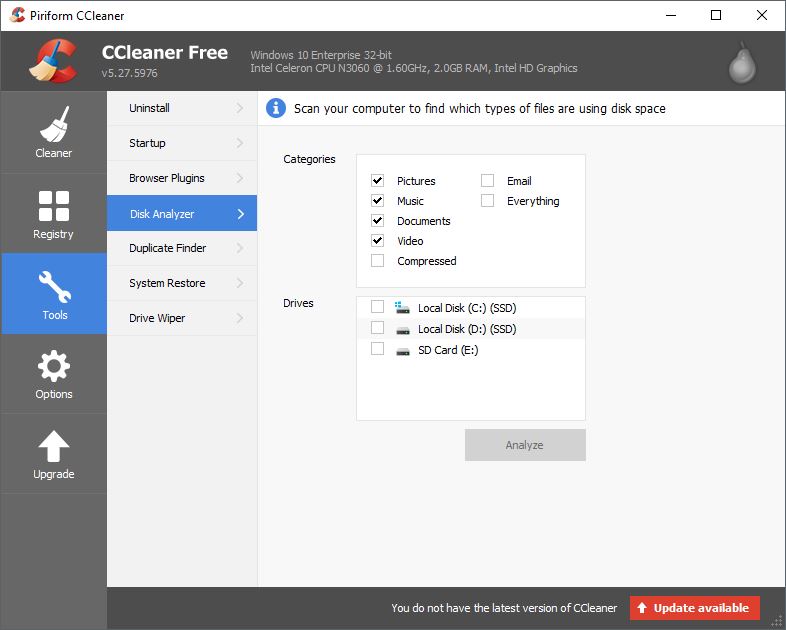 2. iolo System Mechanic
This software was awarded as the best 2017 to optimize the computer system on pcmag review. This software has been experienced since years 1998 in optimizing computer performance. In general, the main features of this software are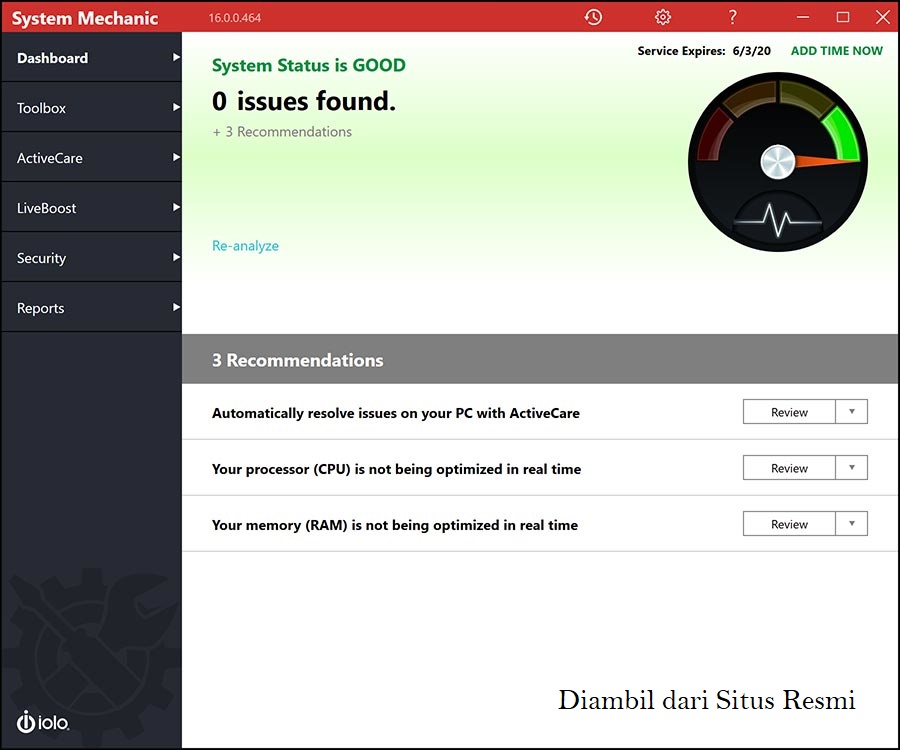 Boost Speed – Provides real time optimization of processor and RAM usage and gives special priority to full screen applications such as games and applications that use large resources such as video editing applications.
Removes Bloatware – bloatware is an application that is active on the service system, where this application is not required to support user accessibility. Usually this application is a kind of malware.
Unleashes Internet Speed – iolo System Mechanic can optimize the internet configuration on your computer so that the internet connection can be at the optimum point for users.
Repairs Problems – iolo System Mechanic will optimize the registry and system drivers to fix bugs on the computer.
Protecs Privacy and Policy – you can maintain privacy from eavesdropping via the internet using this feature.
Cleans Out Clutter – iolo System Mechanic can delete junk files as well as lost media records, so that hdd/ssd users are more economical.
3. IObit Advanced SystemCare
IObit Advanced SystemCare is a performance acceleration software specifically designed for the Windows XP operating system, Windows Vista, Windows 7, Windows 8 and Windows 10. This software has been trusted more than 250 million premium users. This software has 3 The main protection technical as follows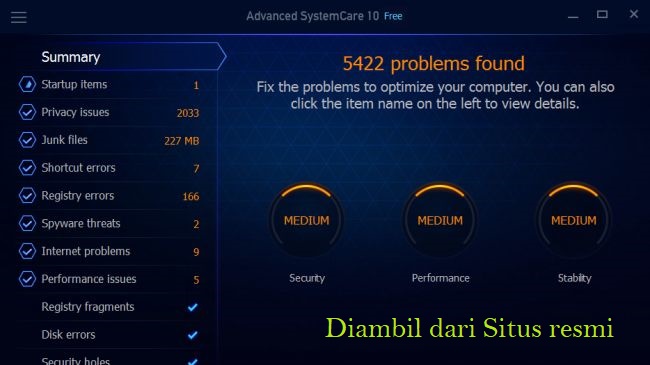 Cleaner & Smoother PC – This software provides an instant way with one click to speed up your computer's performance. Automatically clean registry, shortcut failed, temporary files (temporary files) with just one click.
Faster PC & Online Surfing– This software can provide recommendations to turn off your system services and browser plugins, so that your computer can start faster and browse faster, because the process handled by the CPU becomes less but remains stable.
Real-time Protecting & Monitoring – Real-time protecting runs on the kernel system with low resources, serves to detect malicious software such as malware and spyware by analyzing resource usage behavior. In addition, CPU/RAM/GPU usage is also analyzed to warn users if the computer is overheating.
4. Advanced System Optimizer
Advanced System Optimizer is a computer performance accelerator software that has been experienced since 1999. This software is also available in the Mac OS version and iPhone and Android smartphones. This software from Systweak prioritizes system performance by 5 optimization that is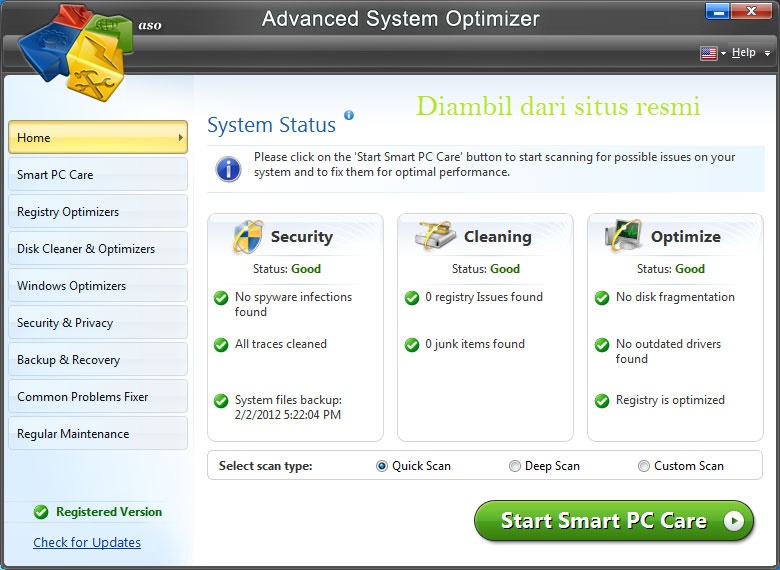 System Cleaner – This software will clean junk files and files that have the potential to damage your computer. System Cleaner also provides compressed data backup so you can easily restore cleaned files.
Game Optimizer – Different from other software, Advanced System Optimizer provides dedicated Game features, your computer will be turned into a game console specifically for playing games via private virtual desktop technology.
Driver Update– Advanced System Optimizer keeps your driver components up-to-date so that operating system communication with hardware remains optimal.
System Protector – This feature keeps your computer safe from malware and spyware attacks as well as your privacy online and offline.
Disk Optimizer – Computer storage is a serious problem for your computer's performance, this feature provides an easy-to-use storage media optimization.
5. The PC Decrapifier
Established since 2007, The PC Decrapifier is here to provide full support at no cost in terms of speeding up your computer's performance. You can use this software with PC community support to solve problems regarding your computer system. As the best recommendation for computer users who are still new to computer systems. User-friendly interface and community support, you should try this software and join The PC Decrapifier community.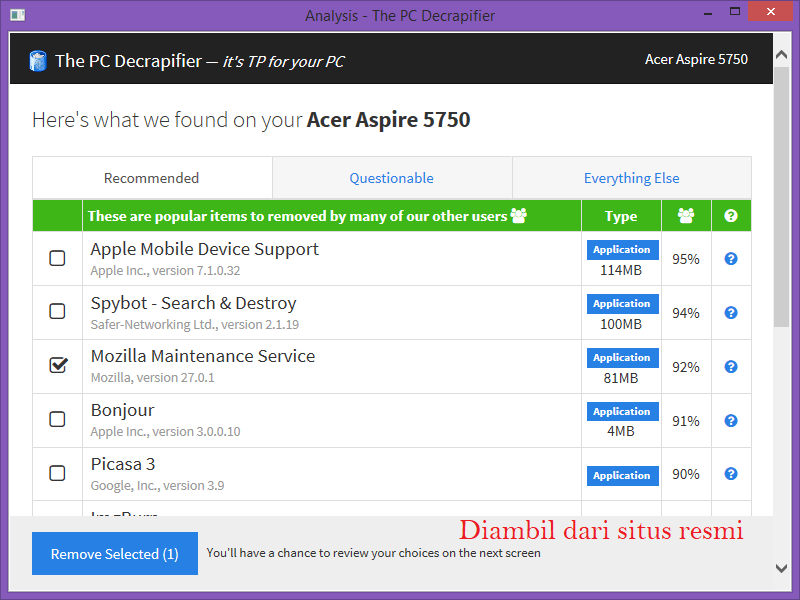 6. Razer Cortex: Game Booster
For those of you computer game lovers, Of course you know this software. This software focuses on accelerating game performance which on average requires large resources. This software is available to speed up games on computers with windows operating system 7, windows 8 and windows 10. This software is integrated with computer games and can provide the right configuration according to your computer hardware system, so that the game can run more smoothly with higher fps. Game booster also provides features that can optimize the game storage segment on the HDD so that the hard disk response is faster when the game is running.
7. Glary Utilities
Glary Utilities is a computer accelerator software that has been trusted more than 40 million users. This software claims to speed up your computer up to 800%. With more than 20 tools that you can use to optimize computer performance Glary Utilities has received a star rating 5 since 2012 in Cnet software review. So that, Glary Utilities is proven reliable from the user's point of view.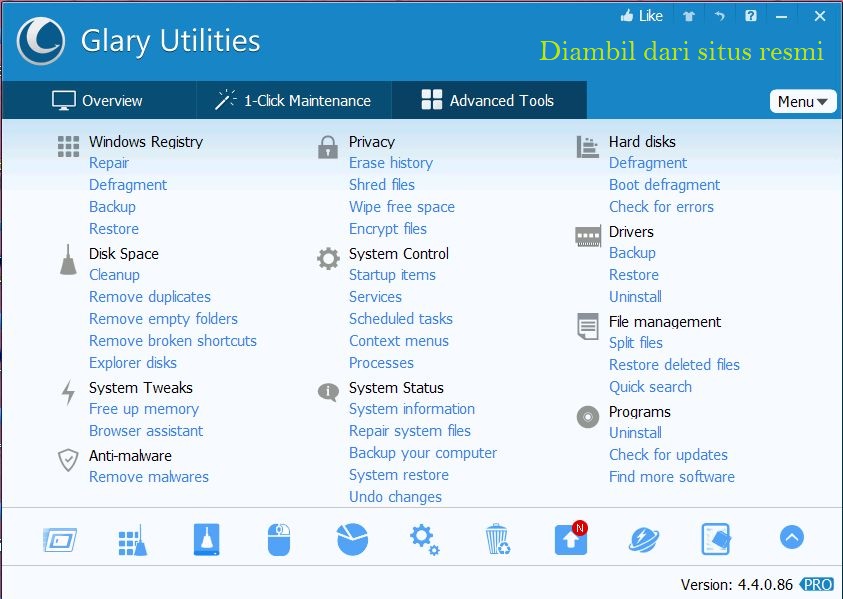 8. Symantec Norton Utilities (Paid)
As a large company specializing in cyber security, Norton also presents computer performance accelerator products at very low prices compared to other competitors. In addition Norton earned a rank #3 year 2017 as the best computer accelerator software based on PCMag review. You can try the software for free as long as 30 days before buying this software.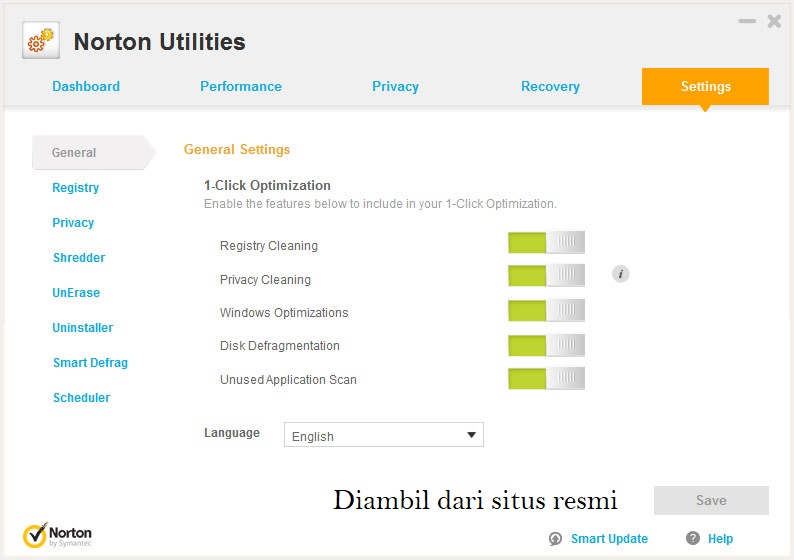 9. System Cleaner (Paid)
System Cleaner is a computer accelerator software that has been around for years 1996. This software has been trusted since 1997 by major industries such as Microsoft and Intel as enterprise workstation computer optimizers. This software provides 24 tools that can optimize your computer's performance. Although this software is paid, the price can be said to be cheap because you can install it with the same license to 3 different computer. You can try this software for free as long as 30 days before you buy this software.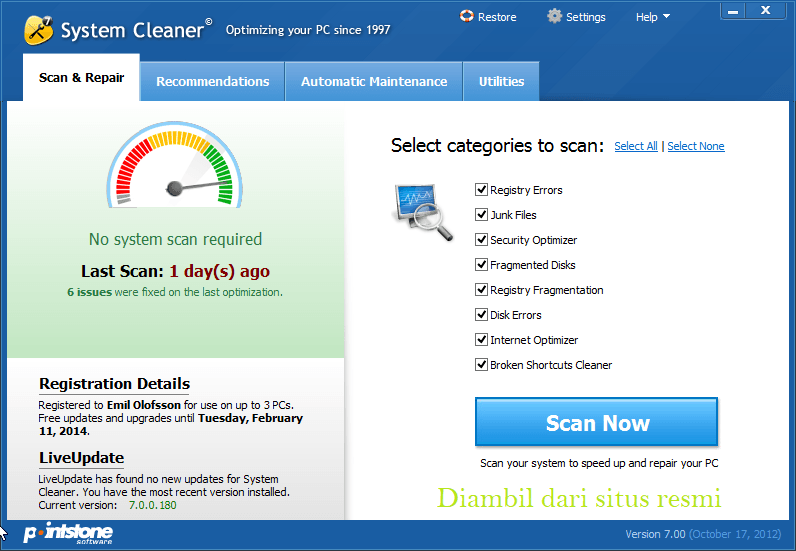 10. AVG PC TuneUp Utilities (Paid)
Since 2014 PC TuneUp Utilities has joined AVG one of the largest Anti-Virus companies in the world. PC TuneUp Utilities continues to be developed into feature-rich software to accelerate computer performance. For those of you who use AVG Anti-Virus, it is highly recommended to use this software. Even though it's paid you can still try this software for as long as you can 30 day. In addition AVG PC TuneUp Utilities is the only one that has the service 24/7 especially in Indonesian from the list above.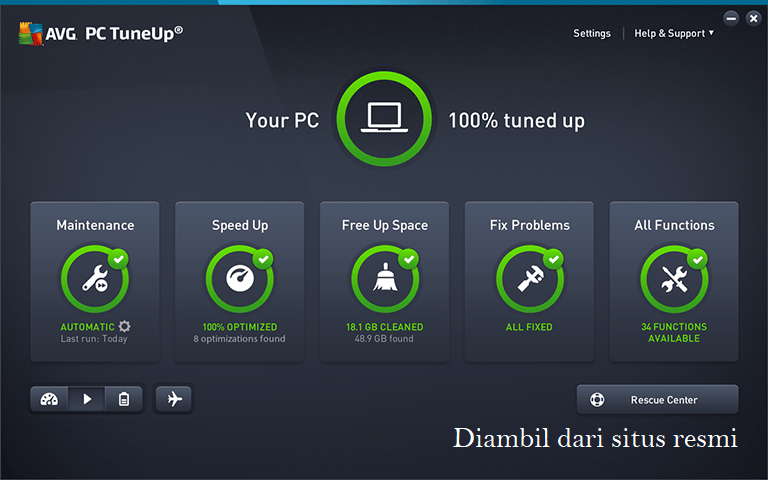 source : https://www.advernesia.com/blog/komputer/10-aplikasi-terbaik-mempercepat-kinerja-laptop/
1,993 total views, 2 views today